Talking about the best Conference Hotel Abeokuta alternative is what this entire article would be about. Conference hotel Abeokuta is one of the most highly rated luxurious hotels in the historical city of Abeokuta, Ogun state. The conference hotel is currently one of the best, but they are also other similar hotels that provide equal services as they do.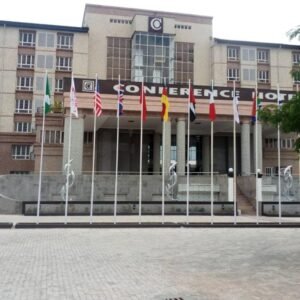 Pebble Hotel and Suites in Ijebu As An Alternative
Although, not in Abeokuta, if you are ever in Ogun State, it is worth checking out Pebbles Hotel and Suites located at Imodi Junction Odogbolu Local Government Area, Ijebu Ode. The hotel is an embodiment of quality service accompanied by suitable facilities which are amongst the best right there in Ogun State.
Pebble Hotel is a dependable alternative that visitors and guests in Ogun State can consider as it shares the same qualities as Conference Hotel Abeokuta. The stylishly located hotel in Ijebu offers exquisite accommodation in a safe, secured and peaceful environment. The hotel has over 25 rooms, a restaurant where locally made and international dishes are available, a spacious parking spot, a swimming pool, and reliable staff to ensure relaxation and recreation are guaranteed.
List of Other Hotel Alternatives to Conference Hotel Abeokuta
Below is the list of alternatives that travelers and guests can consider that offer the same quality of services as the conference hotel Abeokuta.
Park Inn is a top-rated alternative to the Conference hotel, considered the best in Abeokuta. Park Inn essentially helps visitors and guests to have a great leisure experience. It is owned by Radisson Hotels.
Heritage Courtyard Hotel is a reliable location where high and effective customer service is provided. Their services are pretty exciting, and they have numerous beautiful environmental features.
Mokland Hotel and Suites is a 3.5 stars hotel that can be considered an excellent alternative to the Conference hotel Abeokuta. Mokland's services are customer-oriented, and visitors and guests are guaranteed to enjoy their stay.
IBD International Hotel is an ideal relaxation and reliable spot where individuals can feel at home with the best services targeted at these guests and visitors.
Known for its professional delivery of services is "Micron International Suites." This actively functioning hotel helps to keep guests and visitors in the best mood with their needs settled.
This hotel is a resourceful hotel service that can be equally considered by travelers, guests, and fun-seeking individuals. They have the best facilities to make one's relaxation period memorable.
Providence Hotel and Suites is another highly-rated hotel in Abeokuta that can be likened to the Conference hotel in terms of services, accommodation, and hospitality.
Moongate Hotel and Suites remains one great and popular option for fun seekers and travelers who need a reliable place to stay. The hotel provides a friendly and beautiful serene environment for relaxation.
Green Legacy Resort is another suitable option to consider for travelers and visitors who are looking to enjoy their visit to the city capital of Ogun state.
Hallmark Suites is one of the available alternatives compared to the Conference hotel. Currently, they have quality providing personnel with significant infrastructure to help guest enjoy their stay in the hotel.