Before we talk about the best hotels in Abeokuta to book, let's talk briefly about Abeokuta. The city of Abeokuta is the capital city of Ogun state and is famously known for its ancient artifacts, artworks, and historical environments, which attract tourists.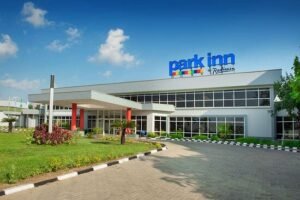 We recommend exploring Ijebu Ode which is 1 hr 17 mins on-road away from Ikeja and booking a room at Pebbles Gold Hotel and Suites. You can also book by calling or sending a WhatsApp message to call or WhatsApp +234 706 118 4541.
How Much Is a Hotel in Abeokuta?
Currently, the average price at which a hotel can be requested or booked for a night in Abeokuta is ₦19,519.10  for a 3-star rated hotel, ₦39,453.50 for a 4-star rated hotel, and ₦68,109.20 for a 5-star rated hotel all in Abeokuta.
What Are The Cheapest Hotels in Abeokuta?
Below are some of the hotels which offer visitors and guests a lesser and more affordable price for bookings.
Paris Estate Palace Hotel.
Star City Hotel.
Red Clover Hotel.
Hill Top Tavern.
Rock City Hotel.
Wuraola Inn.
Best Hotels in Abeokuta to Book
Below are the best available hotels in Abeokuta which interested visitors, guests, and tourists can consider for their bookings and reservations.
Park Inn is currently one of the most popular and recognized hotels in Abeokuta as it's known to offer quality and effective service to its guests and visitors.
Caesar's Court Hotel and Suite provides guests with state of the aft infrastructure and diverse facilities to help improve customer satisfaction and boost comfort.
Providence Hotel and Suites is a popular place where various tourists can visit for relaxation and pleasure. Their services are also good, and they offer multiple features enough to meet customers' tastes.
Grand Style Guest Home ensures that guests only experience the best when relaxing and enjoying a good, suitable, and serene environment.
Heritage Courtyard Hotel gives a visitor or tourists the opportunity of exploring its facilities. They consider the customer's demands very seriously and work tirelessly to meet them.
Micron International Suites offers professional services in hospitality, relaxation, and pleasure. Guests and visitors are always made to feel at home, and their needs are equally met without delay.
Richton Hotel and Suites is one of the best hotels in Abeokuta with its 24/7 fast and timely customer service and a reliable list of services to keep customers happy and good.
House 56 Hotel and Suites is a known place where individuals interested in visiting the state can consider. They provide quality and reliable services enough to keep guests' and customers' needs attend to at all times.
Abeokuta Hill View Hotel is another widespread and trusted hotel based in the city capital. The hotel is customer-oriented and channels its best services to these customers to help them have a comfortable and entertainment-filled experience.
Much like other relaxation and fun deriving places, Turaki Palace Hotel is a suitable hotel where one can derive the best when it comes to comfort and hospitality.
Indices Hotel and Garden is a great location to visit to enjoy countless fun and excitement. Their services are highly commendable, and guests are assured of having an exciting experience.